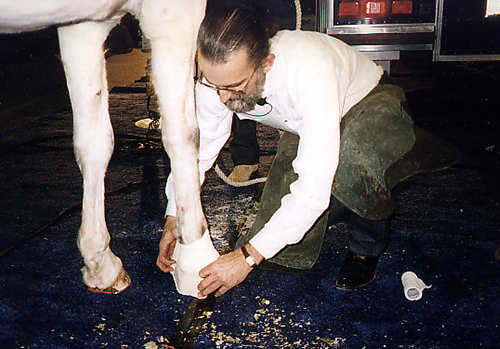 The Galveston County (Texas) Daily News reports a group of nearly 20 curious veterinarians, veterinary students, farriers and horse enthusiasts stood Monday in the shade provided by trees at the Equine Recovery Center in Dickinson.
Redden said he planned to remove one of the lower leg bones, possibly take a piece of a healthy hoof frog, the piece of the hoof that acts as a cushion and shock absorber, to graft onto the remaining stump and then drill two pins into the cannon bone that the cast, and then the prosthetic leg, will be built around.
Click on the headline to read the full article.
@HoofcareJournal writes: Redden said that this was his 55th amputation, and the report says it was performed on the grass under some trees.
Photo of Dr Redden from Hoofcare and Lameness archives.

See on www.mysanantonio.com